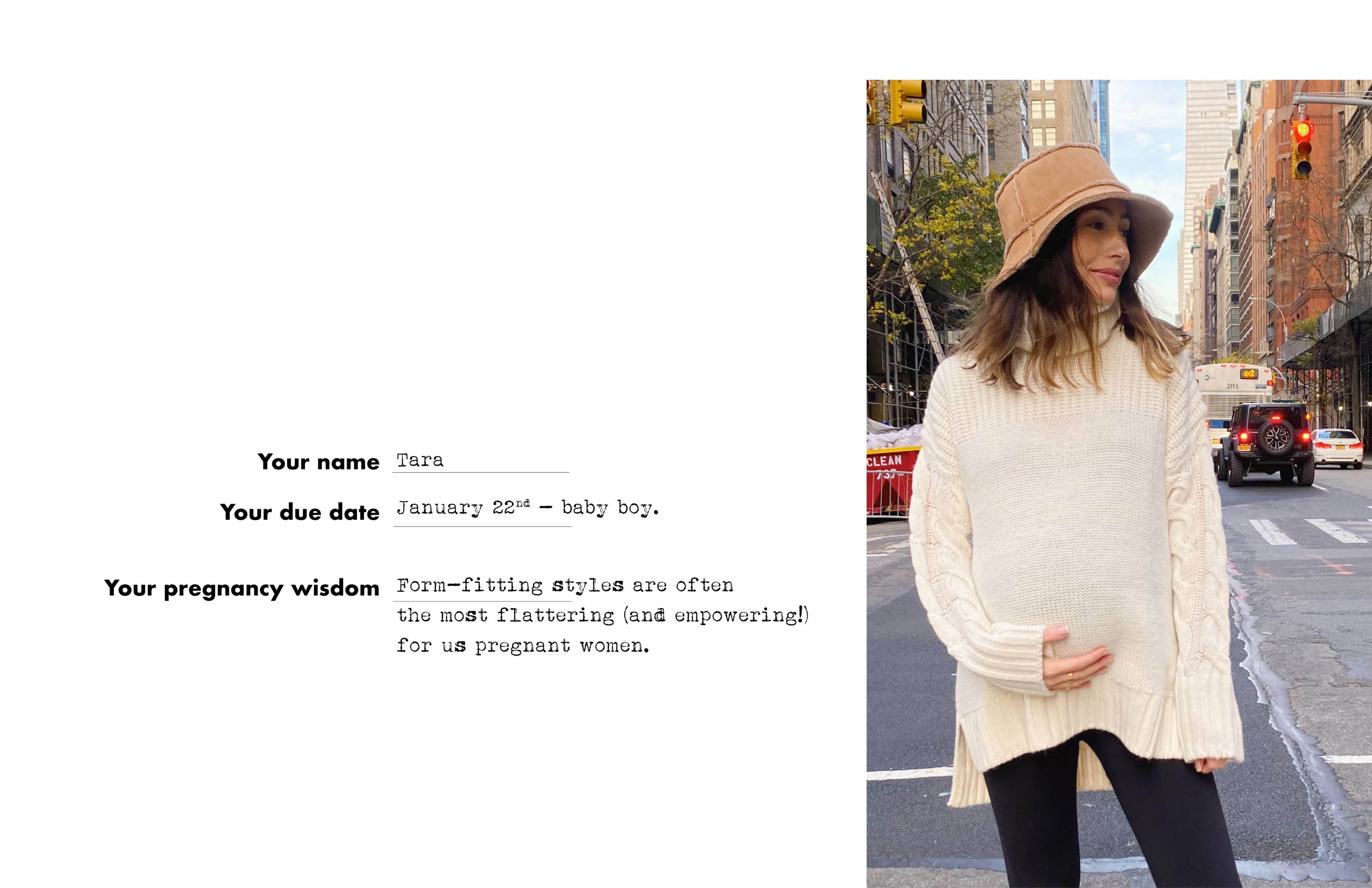 Tara, Director of Brand Partnerships for Something Navy - the fashion & media brand founded by Arielle Charnas - is expecting her first baby, a son, on January 22nd. She shares her thoughts on style, her career & pregnancy during the holidays.
Craving:
Initially, I craved plain carbs: bagels with butter and pasta with butter! Ironically, now I gravitate more towards sweets, cookies specifically. Cucumbers have also been wildly refreshing….
Pregnancy Wisdom: 
I honestly think I'm still processing it all and once the baby arrives, I will look back and better understand what I've learned. That being said, I'm so grateful I was able to get pregnant naturally and have realized how much of a miracle creating another human life is.
Style Advice: 
Don't be afraid to show off your new shape! Form-fitting styles are often the most flattering (and empowering!) for us pregnant women.
Style: 
Feminine and sophisticated, with infusion of trend.
& How It's Changed:
I normally gravitate towards more flowy, oversized clothing. While that hasn't changed completely, I do appreciate more "bodycon" styles so I can show off the bump.
Fashion Muse: 
I can't say I have one "fashion muse," as I gather inspiration from a variety of women and places. But I love Giovanna Engelbert and Tiffany Hsu's style!
Favorite Designer: 
Similar to the above, I could never choose just one favorite! But, for more tailored fashion, I love Toteme and Acne. And I love Zimmermann and Ulla Johnson for ultra-feminine style.
Fashion Moment: 
Maybe my wedding weekend?! The Friday night, I wore a beautiful Markarian gown. On Saturday, the main evening, I wore three dresses (ah!). The hero dress was by Oscar De La Renta, followed by a simpler Alex Perry gown, and then a Brandon Maxwell subtly-leopard mini (originally a midi dress that I altered into a mini).
Favorite Piece from A Pea in the Pod: 
My long BB Dakota cardigan! I've been all about cardigans and dusters this year, for both the comfort and style.
Free Time: 
Free time looks much different this year! But you can normally find me hanging with family, organizing my apartment, looking for ways to update my interior design, or watching Netflix.
Next Adventure: 
Italy or St. Barth!
Staying Active: 
I was exercising regularly during the first half of my pregnancy. As my belly has really taken shape and I've grown bored of virtual workouts, walking has become my most prevalent form of staying active.
Beauty Routine: 
AM: face wash, toner, azelaic acid (a pregnant safe ingredient that helps fight acne), vitamin C serum, moisturizer with SPF, brightening eye cream
PM: facewash, exfoliator 2x per week, toner, azelaic acid, face oil, rich moisturizer, wrinkle reducing eye cream 
On Something Navy (SN):
First and foremost, the SN audience makes everything we do so special! They are incredibly loyal and engaged, and the 2-way conversation we have with them daily is priceless. I think the way Arielle has evolved the brand while staying true to what it stood for a decade ago is extremely meaningful. I would also be remiss not to mention the great group of women that I get to work with who are all exceptionally passionate and smart.
& Joining Their Team:
I started working with Arielle and Something Navy in May of 2018, so it has been over 2.5 years now which is wild. I began as the Brand Director overseeing all verticals of the company – it was just 5 of us for a long time!
Something Navy's Style Impact:
I've always worked in the fashion industry, so style has always been a key component of my life personally and professionally! At Something Navy, with social media being so key to what we do, I am even more immersed in and exposed to constant fashion inspiration.
On Being a Working Mother:
I'll tell you when it happens! What I see and hope for, is that it makes you even better at your job.
Go-to Holiday Look:
I think a sweater dress and boots. I will still gravitate towards that look while pregnant, but I also envision wanting to wear my incredible APIP maternity leggings with a turtleneck or cropped sweater and boots.
Holiday Movie:
This is probably a common answer, but The Holiday is incredible on so many levels.

The Season to be Pregnant:
Feeling grateful is always intensified during the holidays, but when you're pregnant, that appreciation is maximized. Because I am expecting my first child, I am trying to take full advantage of having more free time than I'll ever have with my family and close friends.
On Holiday Traditions:
We spent Thanksgiving with my husband's family, which I always look forward to. Unfortunately, there was no town "turkey trot" this year due to the pandemic, but there was a lot of chill time at home eating his mom's delicious meals. We will spend Christmas with my family. Traditions include a Secret Santa gift exchange, ice skating in Central Park, and lots of wine consumption that I sadly cannot partake in.
On Holiday Stress:
Be as active, or as non-active, as your body is craving. Don't compare yourself to others in a way that might create anxiety – for example, I find myself admiring how other women are intricately decorating or cooking for the holidays and comparing how far behind I am! Also, be thoughtful with your gift giving but don't overspend! It's time to be as financially responsible as possible with a baby on the way.
See Tara on @somethingnavy and @taramoni_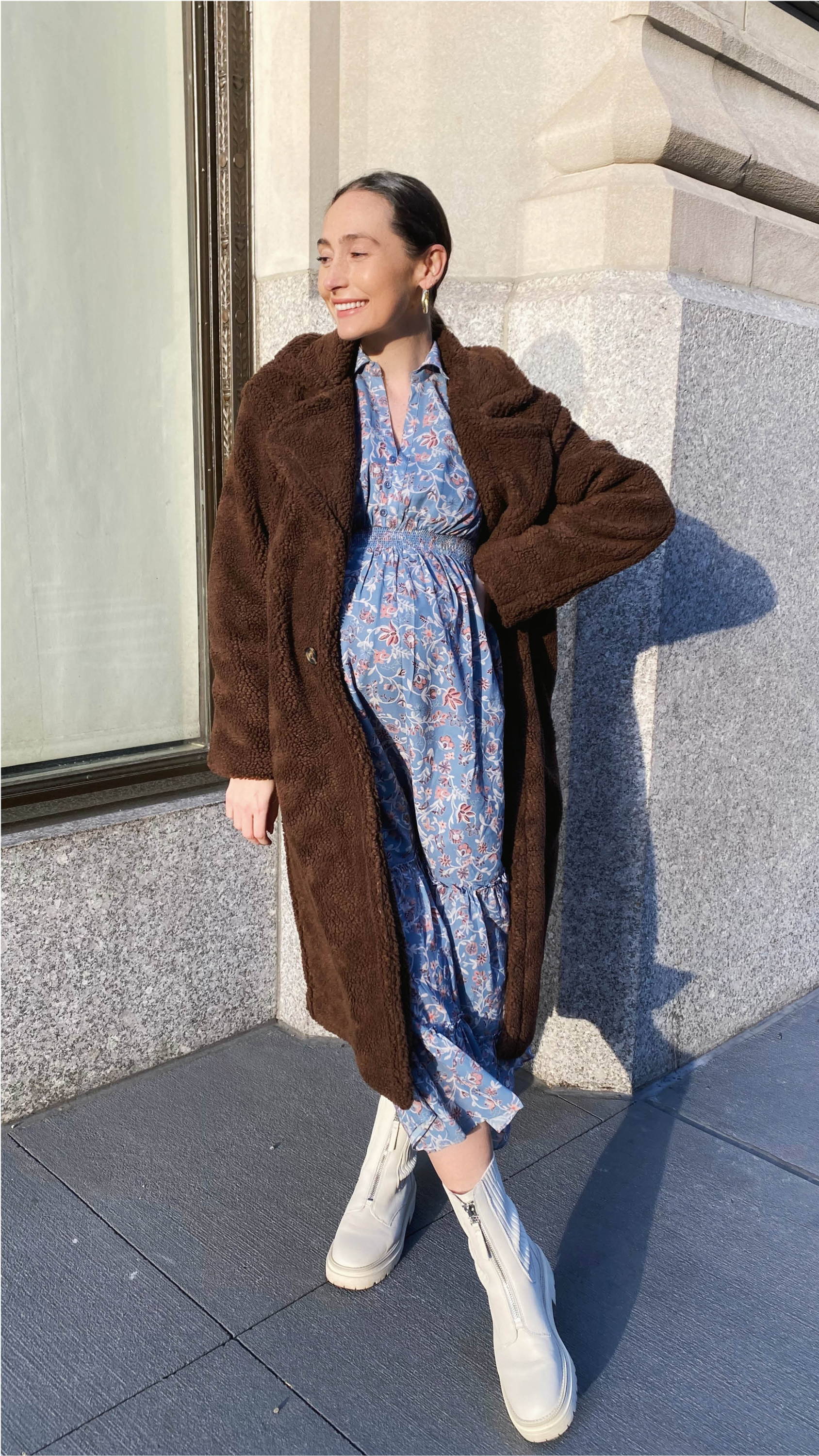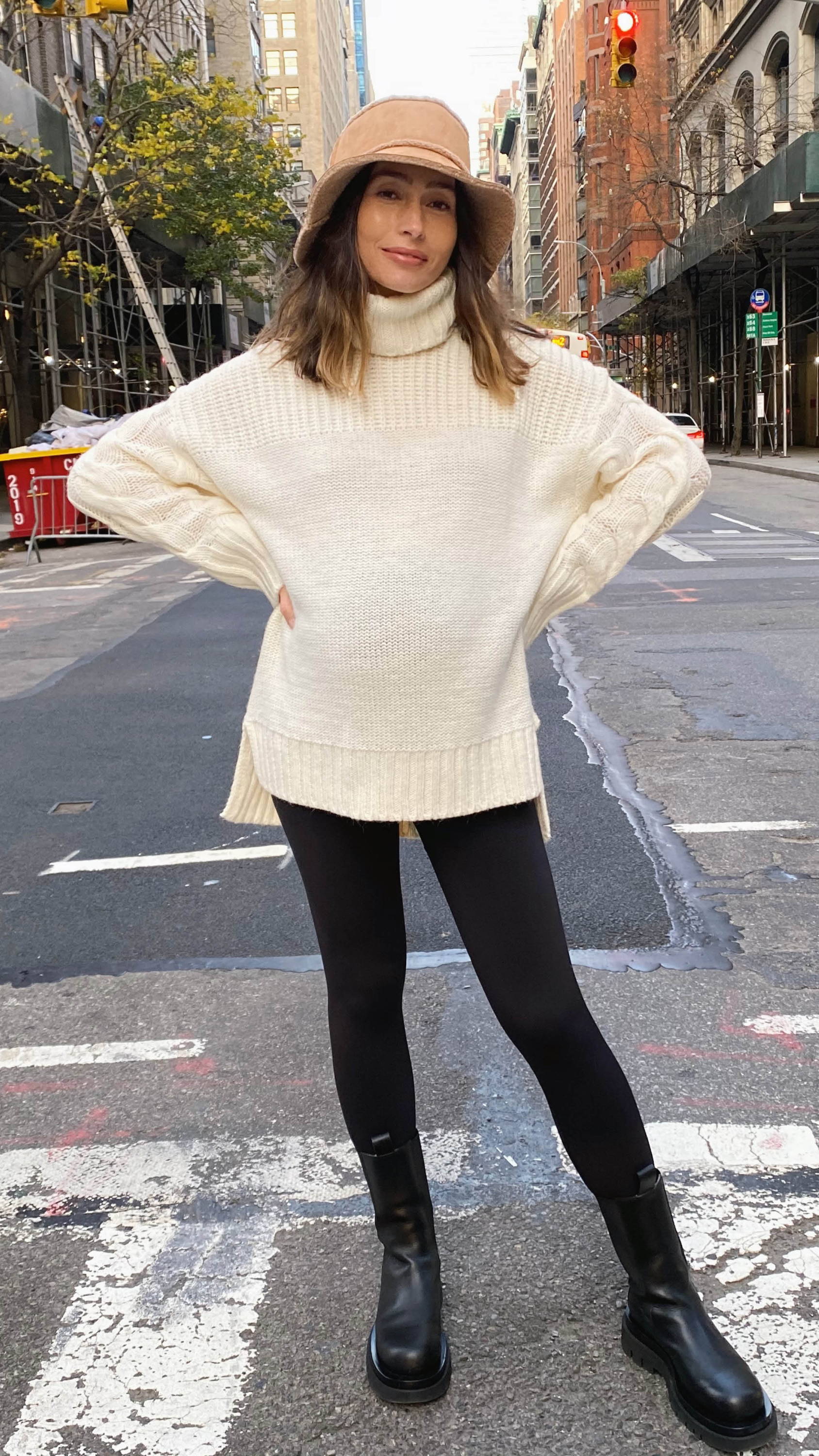 ---