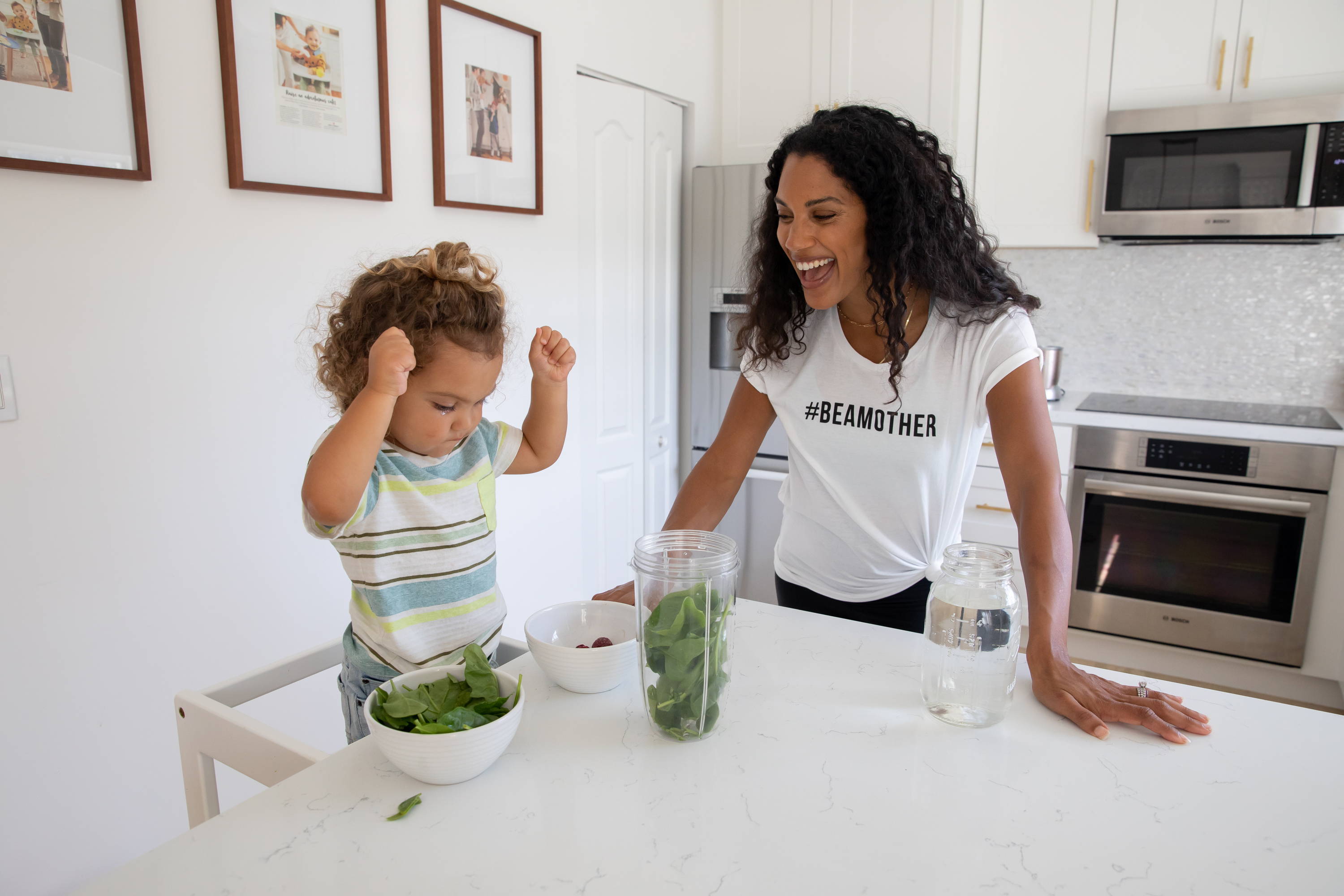 EMBRACING MOTHERHOOD & PRIORITIZING NUTRITION
Guest Editor: Taylor Walker
When I became a mom, I thought I would seamlessly enter the world of organic homemade baby food, all while easily keeping myself vibrantly nourished. I thought I would enter the world of toddlerhood and never EVER give my child chicken nuggets or mac and cheese while my husband and I ate a beautifully prepared meal. Laugh. Out. Loud. Life, pandemic, multiple children and a reality check – #MOMLIFE in 2020 is a constant state of questions.
As a health and fitness professional, I try my best to prioritize the four health-centered and FREE non-negotiables:
About 9-months after I had my son, he was finally on a solid overnight sleep and nap schedule. I was weaning from breastfeeding and determined to kick my postpartum anxiety to the curb once and for all and find true happiness again. I literally sat in my kitchen and put pen to paper. I created my 2018 "Tangible Happiness Plan." A large part of that plan was prioritizing my health and fitness. I had started skipping meals and was not creating the space I needed for a solid fitness regimen. But once I reevaluated, set my boundaries, and asked for help, I started to put myself back together.
So, let's focus on nutrition. Why? Because, food can heal OR it can lead us into a space of increased anxiety and discomfort and hinder the body's ability to function properly. Below are a few ways I was able to embrace motherhood and stay on track with the idea that food is fuel!
Flexible Food Prep
I suggest batch cooking throughout the week or creating a "flexible meal plan." Have a few healthy options like roasted vegetables, rotisserie chicken, healthy snacks, or smoothie bags for you and your kids premade. This makes for easy, nutrient-dense meals that take no time to throw together. It also allows you to create for your mood. Think salads, wraps, toasts or roasted veggie sandwiches.
Some of my go-to items are above, but I also love to batch make:
Hard Boiled Eggs
Turkey Meatballs
Quinoa
Lentils
Chili
Soup
Don't count out canned or frozen fruits and veggies. These items are often cost-effective and picked at the height of freshness. Don't shy away from them. Just check the labels and make sure there is no added salt or preservatives and choose organic when possible.
Prenatal Nutrition
This looks different for every mom and even every pregnancy. My first pregnancy was a walk in the park nutritionally. I only had a couple of cravings and only got sick one time because I drank a smoothie too quickly. When I got pregnant with my daughter, everything changed. Daily sickness, out of control cravings, and lethargy left me clinging on for dear life. This, however, seems to be more normal than my first experience!
My advice is to do what you can to get through it. Continue to take your prenatal vitamin to make up for any nutrient deficiencies. Cravings will come and go and more often than not lead us down a path of sugar, processed white flour, and cheesy goodness! Which, I highly suggest giving into here and there – more for your sanity than anything else. My go-to was a grilled cheese with pickles, dipped in ketchup! YUM. But there are also healthy alternatives you can have on hand when a craving hits.
Healthy Craving Alternatives
Craving this: Try this:
Grilled Cheese on White Bread Grilled Cheese on Whole Grain or Sprouted Bread
Add apple or spinach for added nutrients and fiber
Chocolate Candy Hot Chocolate Made with Plant-Based Milk
Soda or Juice Sparkling Water with Splash of Fruit Juice
Pizza with White Flour Crust Whole Wheat Pizza with Cheese and Veggies
Bagel and Cream Cheese Whole Grain or Whole Wheat Bagel
Mommy and Me Options
Nutrition for you and baby should be focused around getting a wide variety of macronutrients (carbohydrates, healthy fat, and protein) from fruits, vegetables, whole grains, legumes and lean protein. Young children have a growing skeleton and brain to look after, so it is also important that they get a diet rich in calcium, vitamins D & K, phosphorus, and Omega-3 rich foods.
Some of my favorite "mommy and me" foods are:
Mini Breakfast Burritos
Egg Cups
Veggie Filled "Fried Rice"
Muffins with veggie infusions
Veggie Pizza
Ground Chia Pudding
Peanut Butter Energy Bites (see recipe below)

"Charcuterie" Snack Plates: A mix of fruits, veggies, dips, and toasts to eat
throughout the day or during an activity
As we move closer to 2021, set a goal for yourself to incorporate the four health-centered and FREE non-negotiables into your routine and see how great you feel!
1. Nutrition
2. Breath Work
3. Fitness
4. Stress Relief
Try not to overthink food and ditch the diet mentality. Eat whole foods and enjoy them with your family, and you cannot go wrong!
Taylor's Peanut Butter Energy Bites
Ingredients:
1 C Quick Oats
1/2 Ground Flax Seed
1 Tbs Chia Seeds
1 Tbsp. Vanilla Extract
1 C Peanut Butter
1/2 C Honey or Maple Syrup
Optional:
Chopped dates
Raisins
Coconut Flakes
Cacao Nibs
Directions:
· Mix all of the ingredients above together in a large bowl.
· Roll mixture into 1-inch balls and refrigerate for at least a half hour.
· Place energy bites in an airtight container and keep in the refrigerator.
· Note: Make these bites your own! I love peanut butter and coconut. Throw in some dark chocolate or cacao nibs, find flavors that work for your household!
Visit @taylorwalkerfit for more recipe cravings and wellness tips
---