Inspired by the transition of warm summer days into cool fall nights,
a palette of creamy whites & classic denim set ablaze with pops of yellow.
Inspired by the transition of warm summer days into cool fall nights, a palette of creamy whites & classic denim set ablaze with pops of yellow.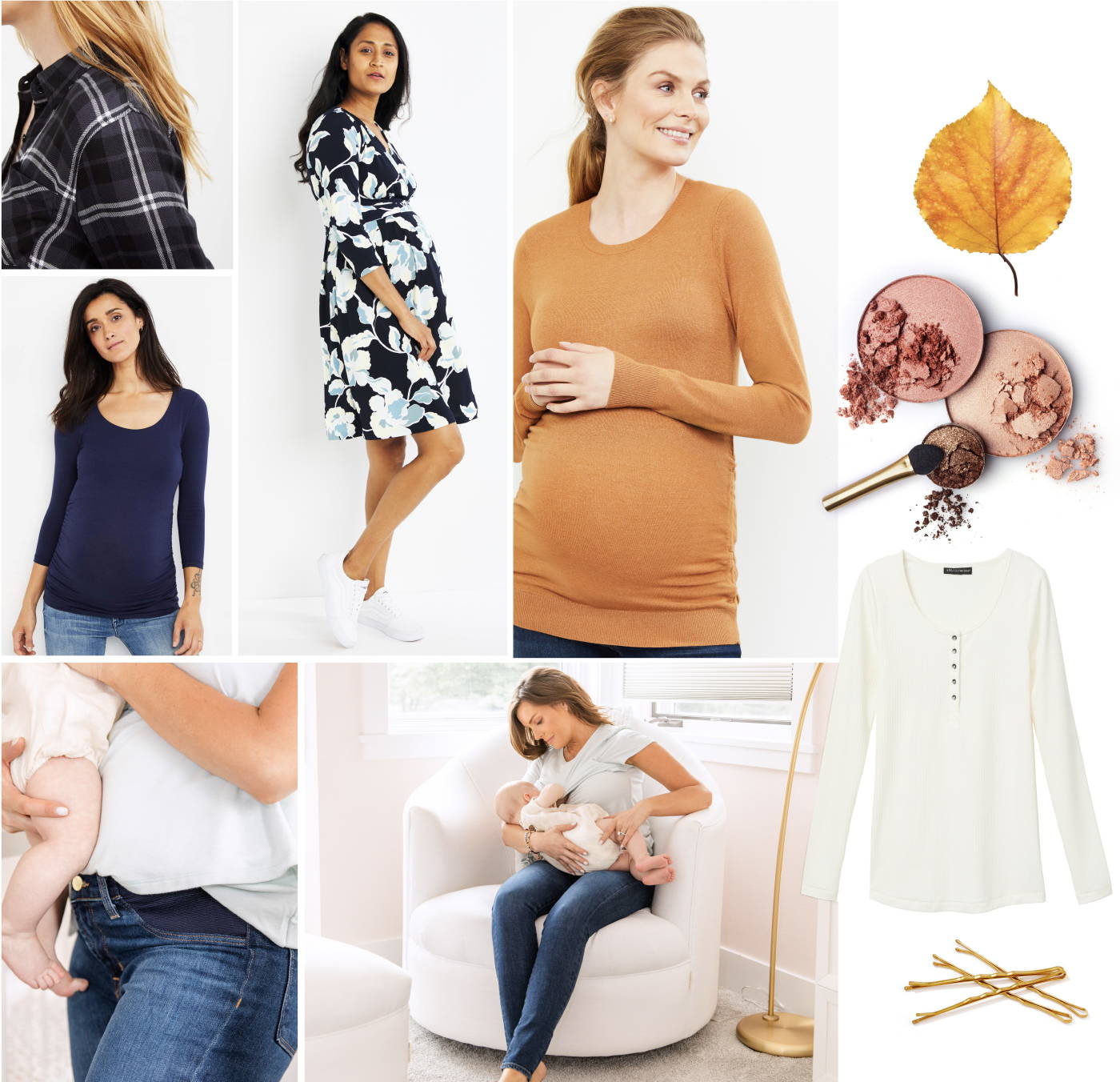 The Topaz, Indigo & Cloud palette is a nod to the changing landscape and season. Inspired by the shortening of days, the morning chill, and the pops of warm sunshine – the shift from summer to autumn is on the horizon.
Transitional apparel – it's even more important during pregnancy. This curated collection of luxe and designer maternity clothes can be styled for any season, during any trimester – and even after pregnancy. Light, layering sweaters and nursing tops, maternity jeans in the perfect wash, and the go-to maternity dress in a seasonless print. Later, trade in your white denim and sandals for a chic wool coat and boots to transition these pieces from early fall to winter.
A simple silhouette in a bright color makes a bold statement. This tie front maternity dress is stretchy, figure-hugging, and flattering. This style proves that baby shower dresses don't have to be pink or blue and is the perfect choice for a gender-neutral baby shower. Whether you're looking for maternity work clothes or maternity cocktail dresses, this chic style fits the bill, and then can be paired with a sneaker for an everyday ensemble.

RAILS PLAID BUTTON FRONT MATERNITY DRESS
Effortlessly cool, this long plaid sleeve shirt dress from Rails is lightweight and versatile. This maternity dress features a full button front that makes this style just as functional as any of our nursing tops. On the warmer days, roll up its cuffed sleeves and slide on a sandal or sneaker. When the chill sets in, pair with your favorite maternity leggings for a style that works all year long.
SIDE RUCHED 3/4 SLEEVE MATERNITY T SHIRT
The most essential in our maternity tops collection, our signature side ruched tee is updated in the most versatile sleeve length. Looking for maternity work clothes? Dress this buttery soft tee-shirt up with your favorite maternity pants – like our best-selling Curie Ankle. Or pair with your go-to denim to wear all weekend long, layered or worn alone.
A feminine print grounded on classic navy. This lightweight pregnancy dress is polished enough for your maternity work clothes wardrobe, and pretty enough to be dressed up if you're searching for chic maternity dresses for special occasions.
CREW NECK SIDE RUCHED MATERNITY SWEATER
The must-have layering sweater. Lightweight, soft and versatile, this crew neck, side ruched maternity top pairs with any maternity pants or maternity jeans. Layer over a collared shirt, or under a maternity coat for added warmth and style.

J BRAND SIDE PANEL MAMA J SUPER SKINNY MATERNITY JEANS
Switching to pregnancy clothes doesn't mean you need to forgo your favorite pair of jeans. These J Brand maternity jeans have a stretchy, side-panel waist that's your solution for pregnancy and postpartum. Offered in an array of washes, we love the versatility and easiness of this Cloudy blue pair.
PULL OVER DROP SHOULDER NURSING TEE
Nursing tops like these prove that trendy maternity clothes and post-pregnancy apparel is possible. In a stunning Misty Blue, this cascading front top is soft and functional when paired with one of our nursing bras. Layer on a maternity coat or sweater for all-year style.
LUXE ESSENTIALS BUTTON FRONT RIB KNIT MATERNITY TOP
We love a Henley paired with just about anything. In the perfect soft white shade, this maternity top layers over any of our maternity bathing suits for a cool day at the beach, or pairs with any cardigan or button front maternity shirt for a classic fall look.