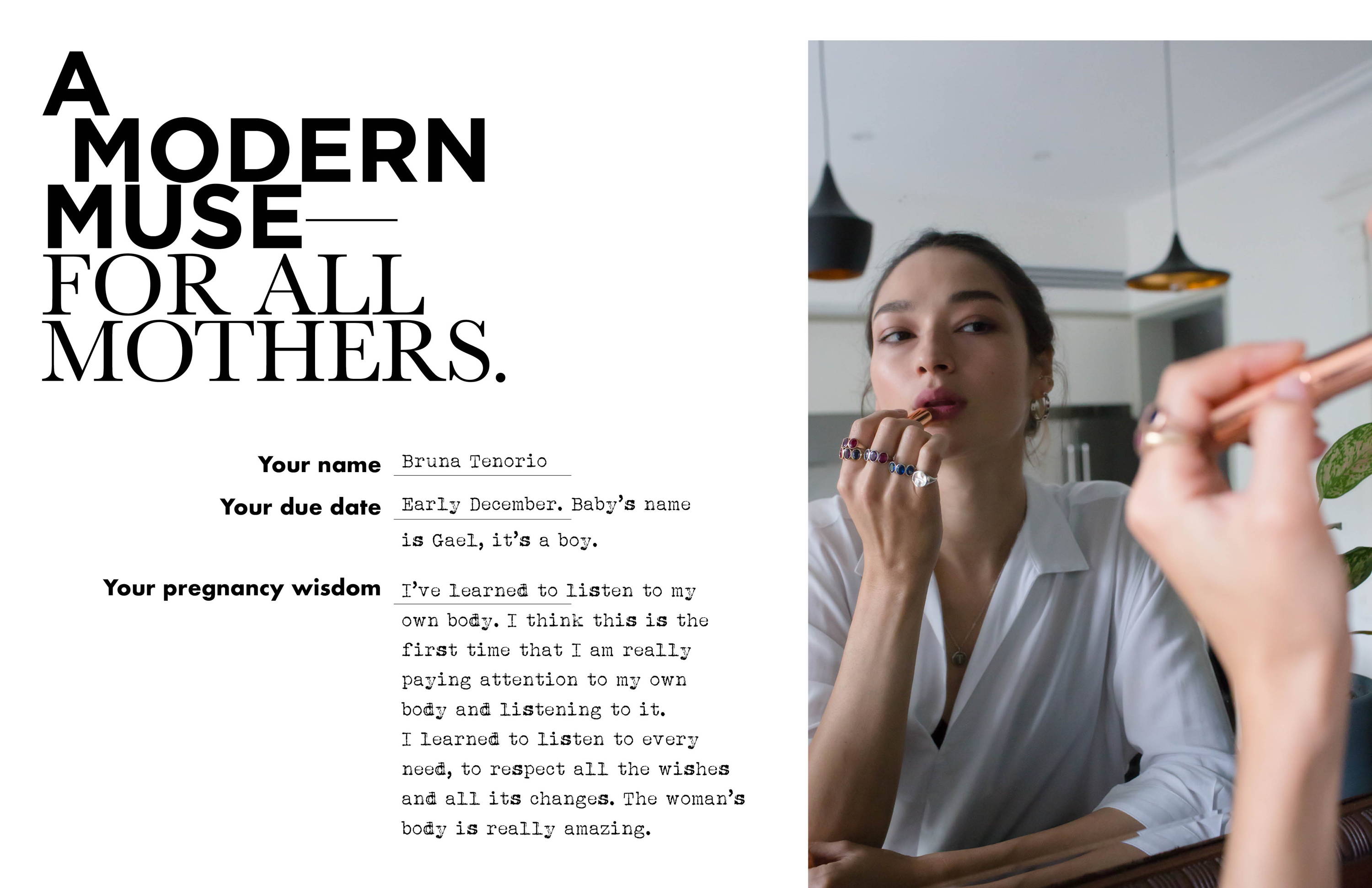 Modern Muse : Bruna Tenorio
The face of the A Pea in the Pod Audrey Collection, model and jewelry designer Bruna Tenorio brought this timeless collection to life with her chic and modern style. As a true fashion girl with a long career of working with some of the biggest names in the industry, she shares her perspective on personal style, being a working mother, and how she's taking care of herself throughout pregnancy.
Pregnancy:
Due date is early December and baby's name is Gael. It's a boy.
Pregnancy Wisdom:
I've learned to listen to my own body. This is the first time that I am really paying attention to my own body and listening to it. I learned to listen to every need, to respect all its wishes and all its changes. The woman's body is really amazing.
Personal Style:
Comfy, effortlessly chic. That's how I like to feel.
& How Pregnancy Changed It:
I'm definitely wearing looser clothing. I've been wearing my husband's shirts a lot with stretchy leggings, which was something I never wore outside the gym.
Style Advice:
Don't follow trends, they don't last. Be your own self – style is a personal thing and confidence comes from things other than clothes.
Fashion Muse:
Audrey Hepburn, I've always admired her elegance.
Favorite Audrey Hepburn Film:
Breakfast at Tiffany's, such a classic!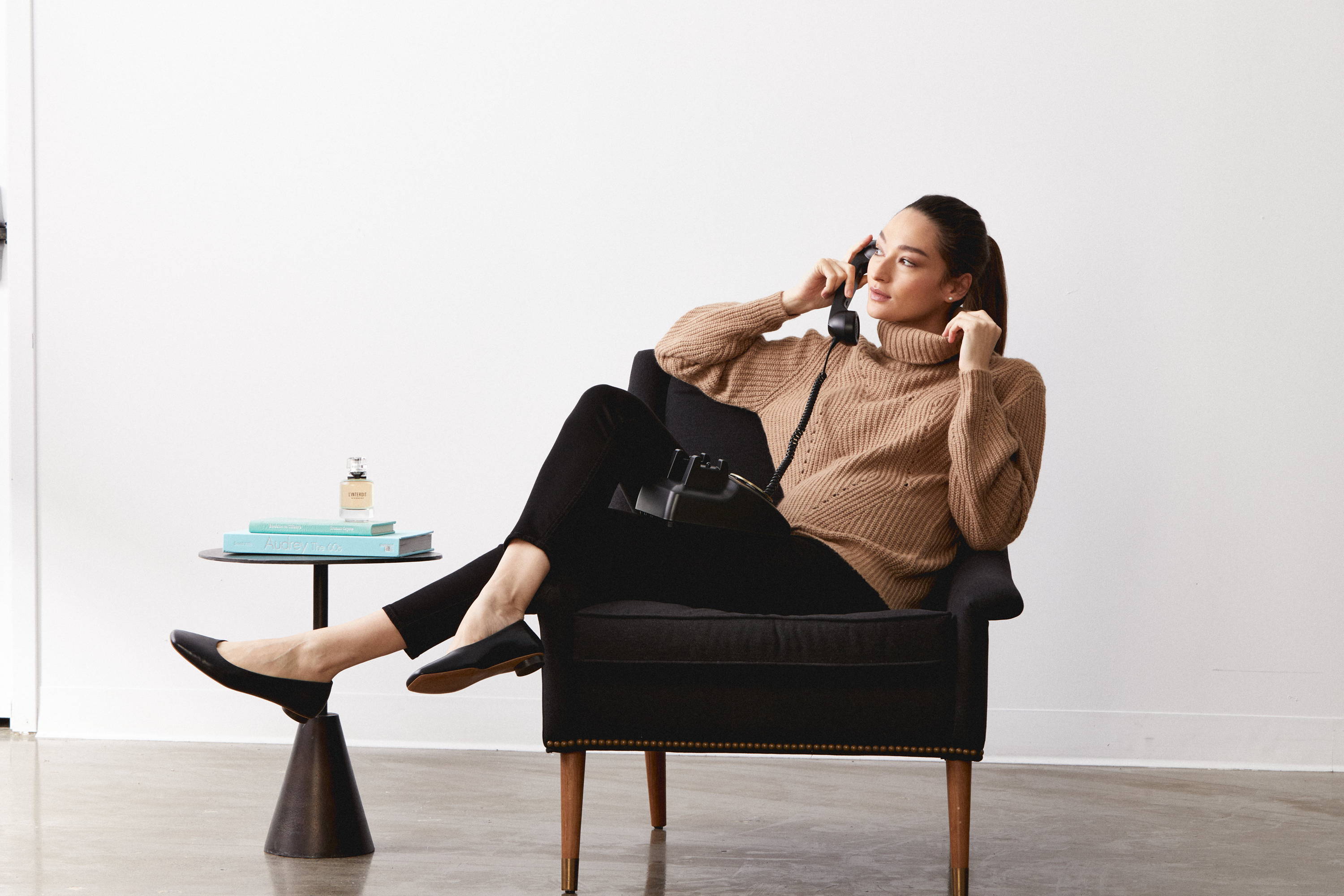 Favorite Designer:
I like a lot of them for different reasons. Hard to say only one. Vera Wang is incredible, I'm her biggest fan. I have worked fro her brand since I started modeling until now. She is the most loyal and genuine person. I have worked for Ralph Lauren for more than a decade and the brand has an incredible history. Also, Karl Lagerfeld had a huge impact on my career, giving me my first chance and opening many doors for me. I am also a big fan of Alexander Wang, Isabel Marant, & Jacquemus.
Fashion Moment:
It was definitely when I walked the Valentino 45th Anniversary Show in Rome.
Must-Have Piece from A Pea in the Pod:
So hard to choose one. I love the Pietro Brunelli Panarea Maternity Shirt, it's so chic and easy to wear. It goes with everything – black leggings or denim. And the Pietro Brunelli Salisburgo Maternity Dress. It's super elegant and I LOVE the puffy shoulders. I really felt like Audrey Hepburn in a movie during the Audrey Collection shoot.
Downtime:
Working on my new pieces of jewelry in my home studio. It's so great to have a studio at home so I can really focus on my upcoming collection.
The Bruna Tenorio Jewelry Collection:
I loved the idea of being able to create something I really love. So, I decided to create my own jewelry line.
After 10 years of working as a model, I wanted to do something else that could work parallel with my work in fashion and decided to study jewelry design. A few years ago, I did a few courses I learned the techniques of handmade jewelry, wax carving, metal smiting and stone setting.
Your Collection's Inspiration:
I am fascinated by the vintage world. I love finding pieces from the 60s, 70s & 80s in vintage stores around the world. I collect a lot of great pieces and I was very inspired by them when I was thinking about my own brand. So, I wanted to create timeless pieces that really express who I am and what I like.
Favorite Design:
I love my Trio Ring. It's such a special piece – the sapphire, amethyst and ruby are perfectly paired together.
A Working Mother:
I could never imagine myself not working. I've worked since I was 16 years old. It's a big part of my life and I love what I do, especially now that I can work as a model and jewelry designer. I love being busy!
Next Destination:
Once things calm down again, I would love to go back to Brazil to visit my family, and maybe spend summer in Greece with my husband and the baby.
Workout Routine:
I've been doing private Pilates + Yoga classes since my first trimester. I also walk 5km in the park twice a week. I really feel the necessity of moving my body every day.
Beauty Routine:
I wash my face with water only in the morning and apply sunscreen. I don't wear makeup every day, only when I have appointments or events. I always try to keep my skin very, very clean. At night, I wash my face and gently exfoliate with a daily scrub. Then I apply night cream and a lip balm. That's it. I also drink a lot of water throughout my day.